The Luxembourg Blockchain Lab is thrilled to welcome Boston as guest city of the event with the contribution of the Boston Blockchain Association. The launch edition of the digital Luxembourg Blockchain Week features a uniquely designed one week program (April 26 – 30) of Blockchain applications in Climate, Digital Assets, Health, Finance, Logistics …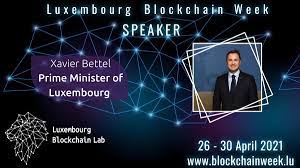 The Luxembourg Blockchain Week is honored to announce as keynote speakers Prime Minister of Luxembourg Xavier Bettel and Minister of Finance Pierre Gramegna.
The Luxembourg Blockchain Week is sponsored by Infrachain, Lëtzblock, The LHoFT, LIST, SnT and Nomadic Labs.