H.R.H. the Hereditary Grand Duke, the Minister of Health, Paulette Lenert, and the Minister of the Economy, Franz Fayot, attended the 10th Luxembourg-American Business Award ceremony during a gala evening in New York.
For this 2022 edition, the Award was given to the DuPont group, which has been present in Luxembourg since 1962 and which recently invested in its site in Contern in order to extend its production line for Tyvek, a material with insulating properties used in particular in protective clothing for health care workers.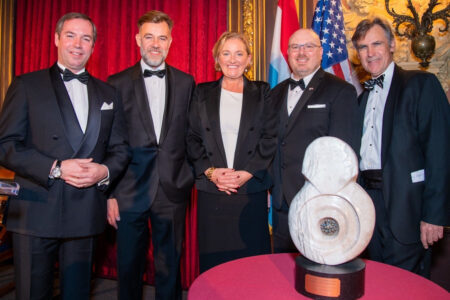 DuPont's strategy is perfectly in line with our vision for a sustainable future of Luxembourg's economy and society.
Organized by the Luxembourg American Chamber of Commerce (LACC), the Business Award is given every two years to U.S. companies based in the Grand Duchy for their important role and lasting contribution to the Luxembourg economy. Previous winners include Amazon, Goodyear Rubber & Tire Company, Guardian Industries, Avery Dennison Corporation, Husky Injection Molding Systems, Delphi Corp, Airtech Advanced Materials Group and Ampacet Corporation. This is the second time DuPont has received this award, after exactly 20 years.
DuPont is a perfect example of the lasting cooperation and friendship between Luxembourg and the United States.
At the award ceremony, H.R.H. the Hereditary Grand Duke stated: "DuPont is a perfect example of the lasting cooperation and friendship between Luxembourg and the United States, between Europe and North America. With this award, we honor the confidence that DuPont has in Luxembourg by contributing to the diversification and prosperity of our economy and to the friendship between the United States and Luxembourg. 20 years after receiving this award for the first time, DuPont continues its long-standing commitment to the Grand Duchy, excellence and innovation. My sincere gratitude and appreciation go to the CEO and the entire Dupont team."
The Minister of the Economy added: "DuPont is one of the flagships of Luxembourg industry of which we are very proud in Luxembourg. DuPont's strategy is perfectly in line with our vision for the future of Luxembourg's economy and society: it is focused on sustainable development and includes efforts in the field of circular economy and reduction of greenhouse gas emissions. As Minister of Economy, I would like to thank the entire DuPont Group, its management and staff, both in Luxembourg and in the United States, for their longstanding commitment to Luxembourg. Congratulations on this 10th Luxembourg-American Business Award."
©LACC/R. Rowland