On October 23 -26, Consul General Daniel Da Cruz visited the State of Montana.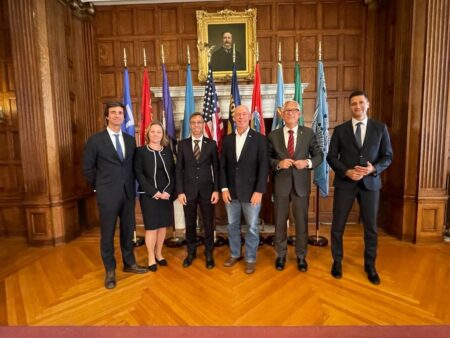 Daniel Da Cruz met with Montana Governor Greg Gianforte at the Montana Capitol in Helena and attended the EconoQuest Conference in Bozeman.
At EconoQuest Daniel Da Cruz participated to a panel discussion on energy resilience and the transition to renewable energies in Europe together with the Consul Generals of Estonia, Germany, Italy and Portugal. He enjoyed lively exchanges with students on: Why is it important for students to engage in the world?
Daniel Da Cruz also visited research labs at Montana State University, aerial firefighting company Bridger Aerospace and Advanced Electronic Designs.
About EconoQuest: EconoQuest is organized in partnership with Gallatin College, Montana Photonics Industry Alliance, and the Montana World Affairs Council. EconoQuest provides Montana high school students with a unique opportunity to engage with local companies and government leaders about economics, business planning, international trade, and future career paths.