A Luxembourg economic mission to Canada took place from June 19th to 24th, 2022, with a particular focus on fostering collaboration between Luxembourg and Canada's  space ecosystems.
Finding synergies in space resources utilization
The space resources topic is a good example of the synergies and mutual interest between Canada and Luxembourg to enable space cooperation. As a first step, a space resources seminar has been organized by the Luxembourg and Canadian space agencies to provide an overview on current and future space resources utilization activities in both Canada and Luxembourg and discuss opportunities for future cooperation between public and private entities of both countries.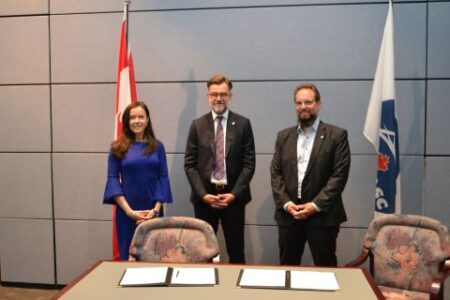 On Luxembourg's side, the presentations highlighted the Space Resources initiative implemented by the Luxembourg Government, ESRIC's activities in Luxembourg as the Space Resources Centre for Europe, SnT space systems and resources and ispace current plans to kickstart space resources on the Moon.
Fostering collaboration between the Canadian and Luxembourgish ecosystems
The Luxembourg delegation visited NorthStar Earth & Space – the first company to offer a commercial space surveillance service from space using a satellite constellation. This service will provide accurate, real-time data on space traffic, collision avoidance and space debris location. NorthStar Earth & Space is a company in which both the Canadian and Luxembourg governments have invested – Luxembourg investing through the Luxembourg Future Fund. The company recently settled in the Grand Duchy to further develop its activities.
The delegation also visited MDA's Robotics and Satellite Systems branches. MDA is known to have developed the space robotic arm Canadarm used on the International Space Station and is active in robotics development, satellite systems and geo intelligence services. Further visits were organised at Kepler Communications, GHGSystems, Xiphos and CGI, the latter being active in Luxembourg too.
Reinforcing space cooperation at an international level
On the last day of the economic mission, the Minister of the Economy, Franz Fayot, along with the CEO of the Luxembourg Space Agency (LSA), Marc Serres, and the President of LSA, Mario Grotz, visited the Canadian Space Agency (CSA) and met with Lisa Campbell, President of the CSA .
After a high-level meeting highlighting the similarities between the objectives of the Canadian and Luxembourg space sectors, CSA and LSA signed a Memorandum of Understanding to enable cooperation in the field of exploration and use of space for peaceful purposes.
The MoU will serve as a vehicle to establish a framework of cooperation, sharing of expertise and exchange of information between the two agencies. It will facilitate research, exploration, development, and use of space, not only by the two countries but also by academic and research institutes and private sector space companies.
The president of the Canadian Space Agency, Lisa Campbell, declared: "International partnerships are essential for achieving our shared goals in space. Today we have signed a Memorandum of Understanding with Luxembourg as an important first step to strengthening our mutually beneficial relationship.''
More information: https://space-agency.public.lu/