Four additional O3b satellites roared into space on April 4,  completing SES's first-generation MEO (Medium Earth Orbit) constellation. Launched by Arianespace, the constellation has positively impacted millions of people with low-latency, high-performance data connectivity services, and will mark transition into its next-gen MEO system.
SES spokesperson Suzanne Ong said the four new satellites increase the throughput of the O3b constellation by 26 percent. The O3b constellation's coverage area remains largely the same,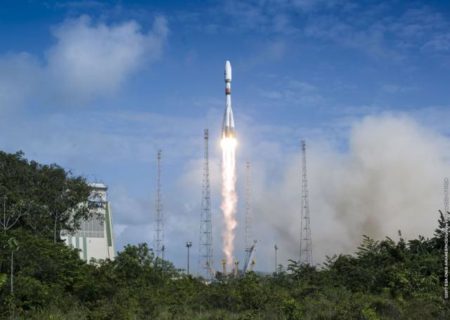 she said, fanning out 50 degrees north and south of the equator. Arianespace has launched the full O3b constellation since 2013 using Soyuz rockets carrying four satellites at a time.
Since then, multiple companies have started placing broadband satellites in low Earth orbit even closer to the Earth. SpaceX and Telesat have prototype spacecraft, and OneWeb has six operational satellites, all in low Earth orbit.
Full article by SpaceNews