In the 2022 report "Brain gain or drain? How shifts in international job search are accelerating global competition for talent" by Indeed Hiring Lab, Luxembourg is considered as the most attractive destination for international jobseekers.
Attracting talent to Luxembourg
The study found that high-income countries attract most jobseekers. This is the case with Luxembourg (EU's highest national minimum wage) which also boasts a strong labour market with its large number of job postings (rapid rebound from the pandemic).
Luxembourg posted a record-high 13,600 open positions over the summer of 2022, as the unemployment rate stood at 4.7%, well below the EU average. Due to Luxembourg's proximity with cross-border neighbours Germany, France and Belgium, there is great potential of new inflows of migrant workers to one of the Europe's most attractive labour markets.
Luxembourg benefits from a 'brain-gain' and not a 'brain-drain'
As the biggest importer of candidates, Luxembourg was given the highest score in the Hiring Lab's
'net interest score' indicator. This metric considers both a country's attractiveness as a destination for job search among people located in other countries and the propensity of that country's jobseekers to search for jobs abroad.
Due to its size, Luxembourg relies heavily on international jobseekers: on Indeed's Luxembourg site, 74% of all searches in 2021 came from jobseekers outside the country while only 32% of searches conducted by jobseekers located in Luxembourg were outgoing.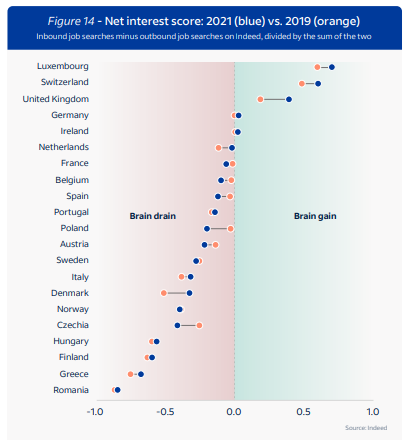 An added benefit of attracting talent has been the high proportion of young adults with a diploma from a university or higher education institution. Indeed, Luxembourg ranks 1st in EU for higher education levels.
Article by Research Luxembourg